Onboarding CM360 to Data Library
Prerequisites
1.) User creds with access to client CM360 account
A shared [client]_reporting@pmg.com account is preferred over a personal account
2.) Alli Solutions GCP service account is added as a CM360 user (see instructions in the next section)
Adding the service account to CM360
1.) Log in to Campaign Manager 360 using the creds from Prerequisite (1)
2.) Navigate to Admin -> User Profiles on the left sidebar
If you do not see the Admin tab, your account most likely does not have the admin privileges. In this case, either (1) request access or (2) have the following steps done by an account admin
3.) Select New to add data-innovation-2018@pmg-datawarehouse.iam.gserviceaccount.com as a new user with Advanced Agency Admin user privileges.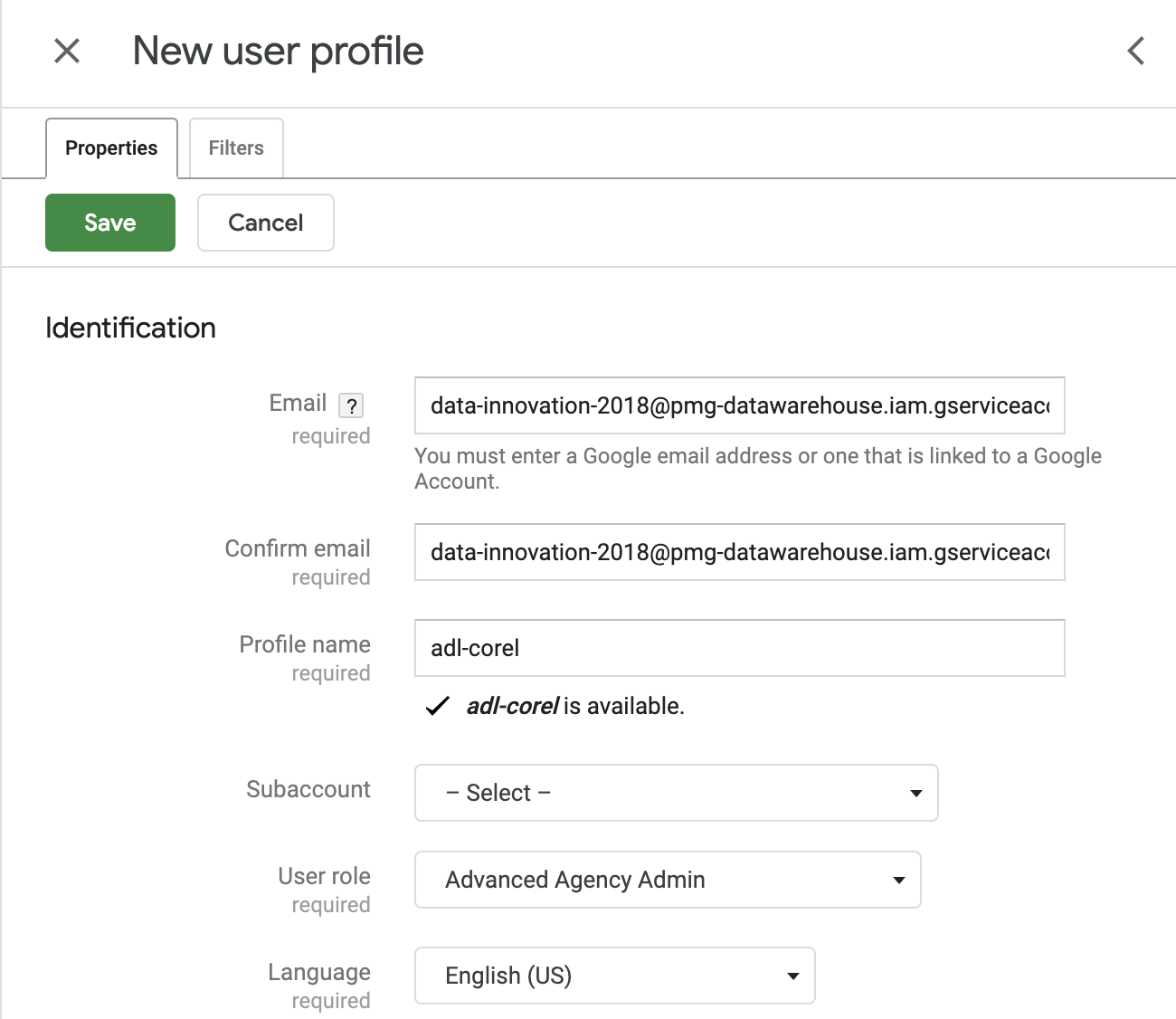 4.) Search for the service account in the User profiles, then copy and save the profile ID

Creating the CM360 report
1.) Install the following Alli Marketplace App: Alli Data Library - CM360 - Create Report within your client's Alli Instance.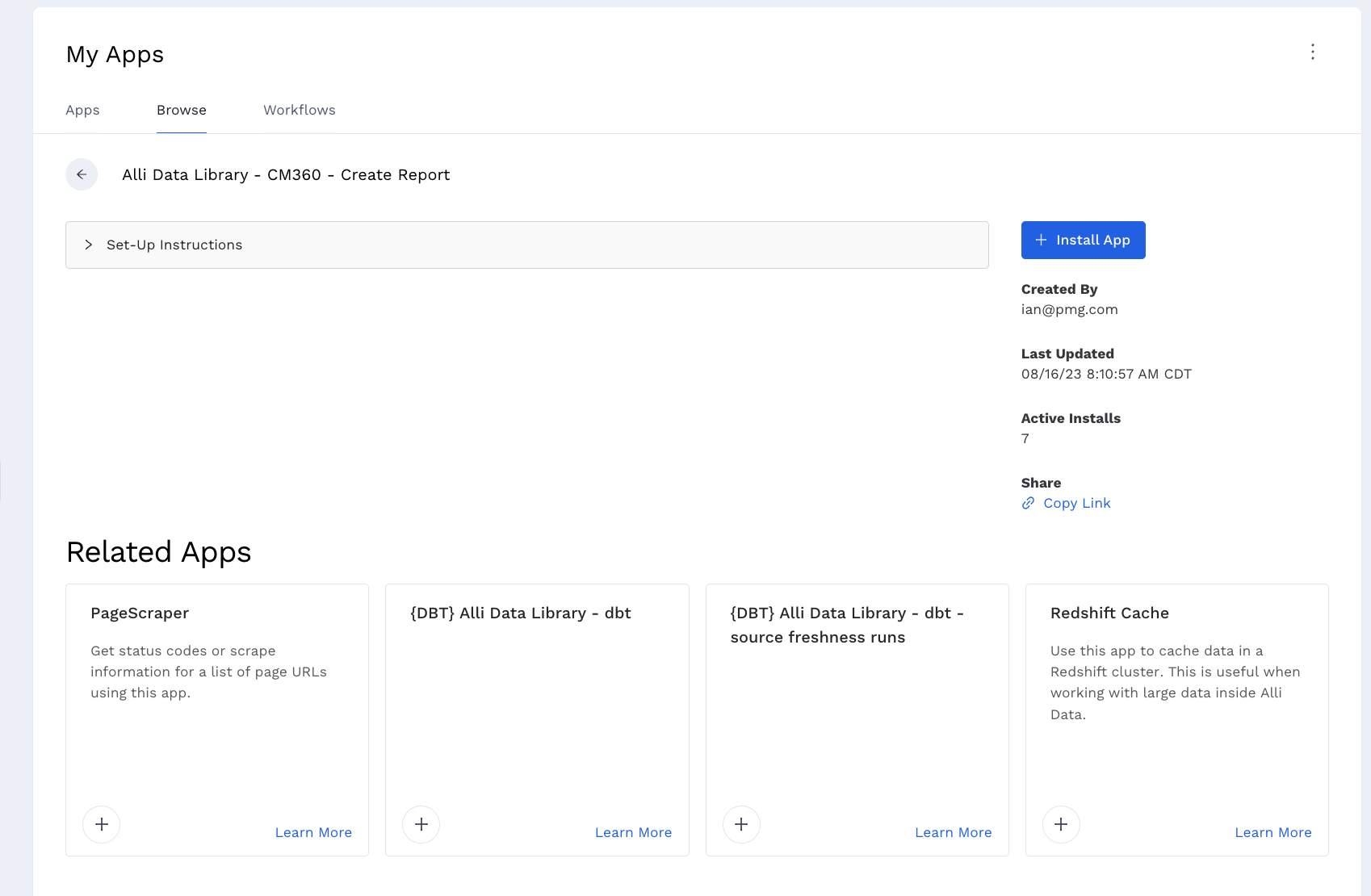 Fill out the corresponding form.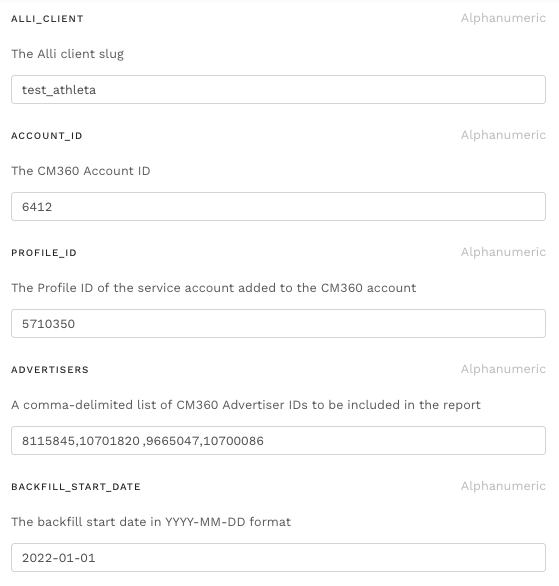 You may also install a new instance using the Alli Data Library - CM360 - Create Report template
2.) Copy and save the Daily Report and Backfill Report IDs from the output

3.) In Campaign Manager 360, navigate to Reporting and Attribution → Report Builder → Offline Reporting
4.) Toggle the Created by filter to Anyone and apply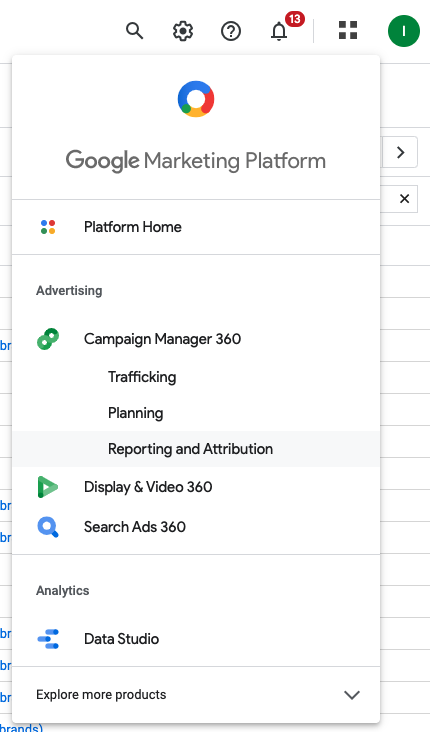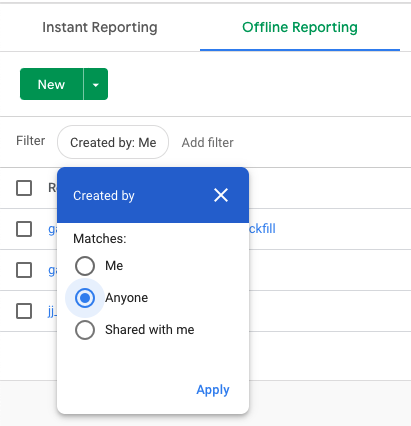 5.) Sort the reports by Last modified descending to see the reports created from step (1) - ensure the report IDs match from step (2)

You may also filter by report ID to validate
6.) Click on Report and Hit save and run to generate CSV files in them.

Creating and backfilling the datasource
1.) Hover next to the report ID of the backfill report to download the CSV on your local machine

2.) Select the checkbox next to the daily report, select Action → Duplicate to make a copy

⬇

This ensures the user creds that will be used to authenticate the datasource "owns" the report
3.) In Alli Data, create a Google Campaign Manager datasource and name it cm360_insights_creative
4.) Authenticate datasource using the CM360 user creds
5.) Select the proper CM360 account for PROFILE, click Next, select the report from step (2) for REPORT_TYPE, and click Next again

6.) Manually upload the CSV from step (1) to backfill the datasource